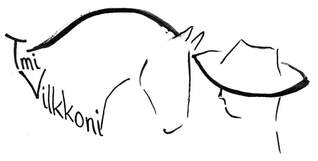 Vilkkoni - animal assisted nature based wellbeing services
Mindfulness in nature with horses and donkeys, goats and sheep. Cuddling rabbits and feeding chicken.
We strive for sustainability in everything we do, especially ethical keeping of animals. Our animals are assistants and co-workers in social pedagogical work, not production units.
No iron -horses: no bit, no iron shoes, open barn and wooded large and versatile paddocks.​
Our services:
| | |
| --- | --- |
| | Tour of animal kingdom: A personally guided visit to animals' homes to see how they live - horses, ponies, donkeys, sheep, goats, rabbits and chicken. Feeding and petting the animals is allowed under guidance. 10€ / person, family ticket (3-5 people) 30 €. The tour takes about 45 minutes. Campfire for roasting your own picnic for 15€ extra. |
| | |
| --- | --- |
| | A moment with a horse (or a donkey): Experience the presence of the warm and caring horse spirit. A private hour with your chosen animal, grooming, playing, a walk in the woods, a groundwork lesson to learn horse language, a (western) riding or driving lesson, you name it. 35€ (1-2 persons). A card for five private horse moments 160 €. Suitable for 6-90-year-olds. |
| | |
| --- | --- |
| | Lead riding on a horse, Shetland pony or donkey 25 €. 15 to 20 minutes lead riding on the arena or on a forest path. 5 time card 110 €. Family discount: the first rider 25 €, the following riders on the same animal 10 €/person). Rider's maximum weight 100 kg on a horse, 45 kg on the ponies, 35 kg on a donkey. A ramp for wheel chair available (need of extra hands to be expressed on booking, extra fee). |
Horse carriage or sleigh ride

80 €. A short ride in the borderland country road and fields, in snow season in a one horse open sleigh, during the bare ground season in four wheel carriage. One hour in total, including the harnessing (which you can take part in) and getting to know the horse, as well as a hot/cold drink (according to the season) after the ride. The vehicles fit

3 adults and children in their laps. If the group is bigger, we'll make shorter rounds and the waiting people may entertain themselves watching the other animals in the meanwhile.
​

Pony cart or sleigh ride

​ 45€. A round in the fields and borderland country roads in a pony cart or sleigh, depending on the season. Includes getting to know the pony and taking part in harnessing, as well as a hot or cold drink after the ride

(according to the season)

. One adult and one child or up to four children (accompanying adults may of course walk along).

If the group is bigger, we'll make shorter rounds and the waiting people may entertain themselves watching the other animals in the meanwhile.

​
Path of Lanterns:

an easy half a kilometre's walk in the dark on a path lit with lanterns. Mindfulness exercises along the way. Suitable also for the elderly and slightly disabled (not for wheel chair, though), benches for resting all along the path. 15 € / first person, 5 € / additional person. Goat or sheep to accompany you for 10 € extra.

About 30 minutes depending on the pace you wish to walk in. Available from October to January.
Bookings by phone or Whatsapp message +358 40 7667591, email ailavilkka(at)gmail.com or contact form below. We also provide programmes for groups.
UPCOMING EVENTS
Sat 26th Aug at 16 - Sun 27th Aug at 12 Outdoors Sleepover with animals (Day of Finnish Wildlife) All-Inclusive-package: a tent or a teepee or a hammock, coffee made on open fire, light supper, breakfast, Lost Emotions adventure in the woods and forest yoga. 75 € /adult, 40 € /child (under 12 yrs). For addtional 30 € a gentle wake-up with horses: mindfullness and living in the moment. Book your place by 15th Aug tel
0407667591 or email ailavilkka@gmail.com. payment with cash or card.

​
9th Sep Saturday at 10-16 Day of local food:
The animal yard open, lead riding and ponycart rides, bangladesh curry (proceeds for Women's Bank) produce of local gardens and fields on sale. Nature products of PäiviAngervo (sparkiling drinks and glögg among others) and adventures in the woods for kids by LuontoonMetsään (Terhi Niiranen Tmi).
28th Oct Saturday at 16-20 KEKRI (Finnish halloween):
ancient celebration for the turn of the year at the end of harvest. A bonfire, lead riding, boffing, café, animals of the farm.
We are located quite near the Russian border. The sleigh and carriage rides take you to the vicinity of the border zone. Therefore please heed the instructions of your guide.
Phone: +358 40 7667591
email: ailavilkka@gmail.com
Address:
Kiurulantie 152, 55100 Imatra, Finland